Current account in EUR
The key to your finances and receiving numerous benefits from the Bank
Take advantage of the benefits
Overdraft
Overdraft after receiving the first income payment.
Instalments
Instalments without fees for up to 36 months at PBZ POS devices.
Simple and quick access to money
Your funds available always and everywhere using Visa Inspire card.
Zanima Vas više o pogodnostima i uvjetima PBZ transakcijskih računa?
Leave your data for more information
We will contact you as soon as possible.
The right choice for your finances
Over 800,000 citizens have shown their trust in the PBZ current account in EUR and the PBZ payment card.
By opening a current account to receive your salary or pension, you can receive many benefits
I am switching to
You have decided to change the bank for your financial operations?
Switching your account to PBZ can now be done quickly and simply!
Visit your nearest PBZ branch, sign the authorisation to switch your account to PBZ and leave the rest to us.
Favorable fees
no current account management fee for the first 90 days or 12 months* if you are a user of a PBZ loan and direct your income to a PBZ current account
from EUR 0,71 to EUR 1,19 (from HRK 5,40 to HRK 9,00)

per month, or from EUR 0,36 to EUR 0,60 (from HRK 2,70 to HRK 4,50) per month for maintaining a current account for pensioners (payment of a pension on a current account)
the amount of the fee is reduced depending on Inovacija package.
no fee for young people 18-25 years. Learn more on PBZ youth
* special benefit until January 31, 2023 for clients who are users of existing or newly contracted PBZ loans and who until January 31, 2023 direct regular income to the existing or newly contracted PBZ current account in EUR.
Flexibility
Be flexible in case of sudden needs:
the possibility of making an overdraft available in the amount of three average six-month regular incomes (salaries/pensions) or in the amount you had in your previous bank up to EUR 5.310,00 EUR
the overdraft is made available from the first day of the following month​​​ for a period of 6 months with the possibility of renewal
interest rate on the used amount of the overdraft is 5.94% fixed
with overdraft, the possibility of approving installment payments with Visa Inspire card up to 36 installments without interest and fees with a month of postponement for payment of the first installment
Contactless mobile payment
Forget about your wallet, perform daily transactions contactlessly via mobile phone!
The Visa Inspire Card
Contactless payment without a PIN up to EUR 40,00

Repayment in up to 36 instalments at over 28,000 points of sale

Secure Internet shopping
Find out more
Money availability
The current account adapts to your needs and allows you to quickly and easily access your money exactly when and where you need it:
Special offers from partners
Special offers from partners
Special offer from 1.6. until 15.6.
Seize the opportunity with the Visa Inspire card of the PBZ current account!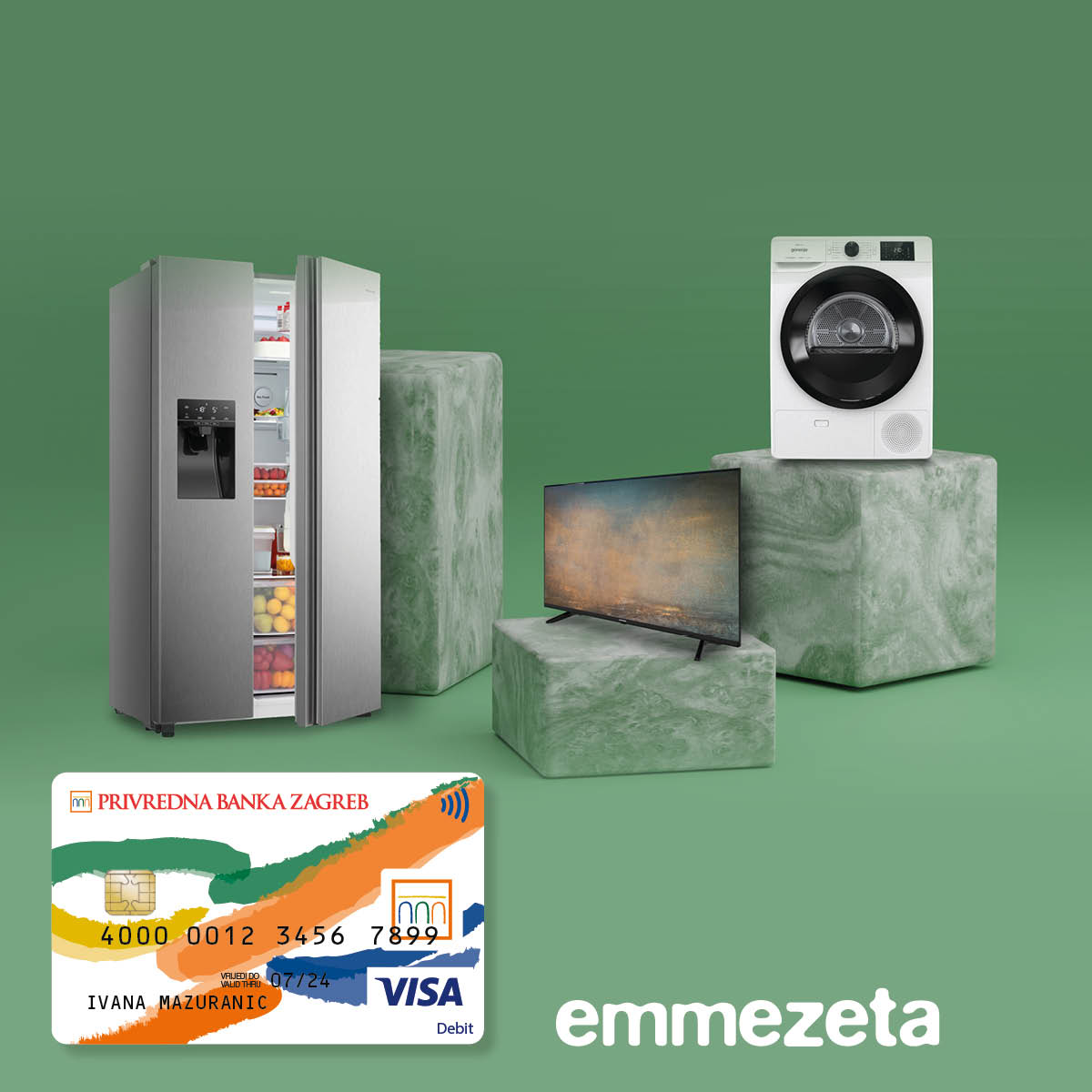 Until 15.6.2023. take advantage of a special offer in Emmezeta: up to 25% discount when paying with a Visa Inspire card and up to 24 installments without interest and fees with a one-month delay in paying the first installment. Find out more at www.emmezeta.hr.
the discount applies to the selected range of products
benefits are valid in stores and web shop; promotions and discounts do not add up
promo codes for online shopping can be found with each product from the promotion at www.emmezeta.hr
up to 15% on selected white goods
15% on Faber built-in technology
20% on a selected range of Volteno fans, Bosch power tools and white goods
up to 25% on Grundig TVs
* The convenience of installment repayment can be used by clients who receive regular PBZ current account receipts in EUR and have overdraft.
With Visa Inspire card
With Visa Inspire card
Installment purchases can be made at more than 28,000 points of sale throughout Croatia, with a wide range of offers - from furniture and technical goods, through clothing and footwear, entertainment to travel.
The possibility of installment payments of up to 36 installments without interest and fees, depending on the maximum number of installments that can be realized with an individual sales partner, for all or part of the range.
Secure online shopping
Shop safely at online outlets that support the 3D Secure 2 program.
Carry out bank transactions anywhere, at any time with PBZ Digital Banking
Carry out bank transactions anywhere, at any time with PBZ Digital Banking
Use PBZ Digital Banking to control your money 24/7.
Review your account details and check your transaction history.
Transfer money faster and more easily wherever you are and whenever you want.
Activate smart notifications to get information about payments to your account.
Always up to date
Keep track of your balances and transactions with PBZ Digital Banking, anytime, anywhere!
Open your current account
Step 2
Prepare your valid identity card
Step 3
Fill out the required documentation and contract current account in EUR
Step 4
You can empower one or more persons to dispose of the funds